NEWS
Charlie Sheen's Publicist Quits: "I'm Unable to Work Effectively"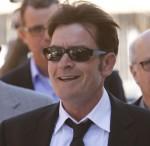 When the going gets tough, the tough get going — and when the going involves Charlie Sheen, that means his publicist is calling it quits. After a series of interviews slamming Two and a Half Men producer/creator Chuck Lorre and claiming that he is a drug, it seems Charlie's got a bit of a staffing problem.
OK! NEWS: CHARLIE SHEEN SAYS HE WILL SUE CBS FOR "TONS"; PROUD OF HIS ROCK STAR LIFE
Stan Rosenfield released a statement today to the media, expressing what seems to be genuine concern for the actor.
Article continues below advertisement
"I have worked with Charlie Sheen for a long time and I care about him very much. However, at this time, I'm unable to work effectively as his publicist and have respectfully resigned," reads the statement.
But Charlie tells TMZ that he isn't happy with Rosenfield, saying, "P***y. He's not allowed to quit, so you're fired."
Charlie has said recently that he'll sue CBS for "tons," and that while he is clean and sober, he's on a drug called Charlie Sheen.
"I am on a drug, it's called 'Charlie Sheen.' It's not available cuz if you try it once you will die. Your face will melt off and children will weep over your exploded body," he explained to ABC News. "Um, too much?"
Maybe a bit too much, Charlie. Just maybe.