NEWS
Charlie's Angels Co-Stars Remember Farrah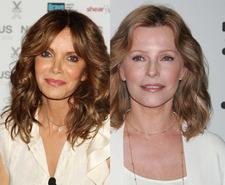 Two of Farrah Fawcett's castmates in legendary girls-with-guns smash hit Charlie's Angels are opening up about the sad news that their co-star has passed away at the age of 62 following a prolonged battle with cancer.
"Farrah had courage, she had strength, and she had faith," says actress Jaclyn Smith, the only Angel to star in all five seasons of the iconic TV show. "And now she has peace as she rests with the real angels."
Article continues below advertisement
And Cheryl Ladd, who was actually brought onto the show to replace Farrah says, "I'm terribly sad about Farrah's passing. She was incredibly brave, and God will be welcoming her with open arms."
FARRAH REMEMBERED:
<a href="http://www.okmagazine.com/pixandvids/gallery/15266/1" target="_blank"><img src="https://d-images.okmagazine.com/img/photos/large/33959.gif" height="100"/></a> <a href="http://www.okmagazine.com/pixandvids/gallery/15266/2" target="_blank"><img src="https://d-images.okmagazine.com/img/photos/large/33958.gif" height="100"/></a> <a href="http://www.okmagazine.com/pixandvids/gallery/15266/3" target="_blank"><img src="https://d-images.okmagazine.com/img/photos/large/33957.gif" height="100"/></a> <a href="http://www.okmagazine.com/pixandvids/gallery/15266/4" target="_blank"><img src="https://d-images.okmagazine.com/img/photos/large/33956.gif" height="100"/></a> <a href="http://www.okmagazine.com/pixandvids/gallery/15266/5" target="_blank"><img src="https://d-images.okmagazine.com/img/photos/large/33955.gif" height="100"/></a> <a href="http://www.okmagazine.com/pixandvids/gallery/15266/6" target="_blank"><img src="https://d-images.okmagazine.com/img/photos/large/33954.gif" height="100"/></a> <a href="http://www.okmagazine.com/pixandvids/gallery/15266/7" target="_blank"><img src="https://d-images.okmagazine.com/img/photos/large/33953.gif" height="100"/></a> <a href="http://www.okmagazine.com/pixandvids/gallery/15266/8" target="_blank"><img src="https://d-images.okmagazine.com/img/photos/large/33952.gif" height="100"/></a> <a href="http://www.okmagazine.com/pixandvids/gallery/15266/9" target="_blank"><img src="https://d-images.okmagazine.com/img/photos/large/33951.gif" height="100"/></a> <a href="http://www.okmagazine.com/pixandvids/gallery/15266/10" target="_blank"><img src="https://d-images.okmagazine.com/img/photos/large/33950.gif" height="100"/></a> <a href="http://www.okmagazine.com/pixandvids/gallery/15266/11" target="_blank"><img src="https://d-images.okmagazine.com/img/photos/large/33949.gif" height="100"/></a> <a href="http://www.okmagazine.com/pixandvids/gallery/15266/12" target="_blank"><img src="https://d-images.okmagazine.com/img/photos/large/33948.gif" height="100"/></a> <a href="http://www.okmagazine.com/pixandvids/gallery/15266/13" target="_blank"><img src="https://d-images.okmagazine.com/img/photos/large/33947.gif" height="100"/></a> <a href="http://www.okmagazine.com/pixandvids/gallery/15266/14" target="_blank"><img src="https://d-images.okmagazine.com/img/photos/large/33946.gif" height="100"/></a> <a href="http://www.okmagazine.com/pixandvids/gallery/15266/15" target="_blank"><img src="https://d-images.okmagazine.com/img/photos/large/33945.gif" height="100"/></a> <a href="http://www.okmagazine.com/pixandvids/gallery/15266/16" target="_blank"><img src="https://d-images.okmagazine.com/img/photos/large/33944.gif" height="100"/></a> <a href="http://www.okmagazine.com/pixandvids/gallery/15266/17" target="_blank"><img src="https://d-images.okmagazine.com/img/photos/large/33943.gif" height="100"/></a> <a href="http://www.okmagazine.com/pixandvids/gallery/15266/18" target="_blank"><img src="https://d-images.okmagazine.com/img/photos/large/33942.gif" height="100"/></a>