NEWS
Charlize Theron Talks About Her Worst Date Ever on Conan O'Brien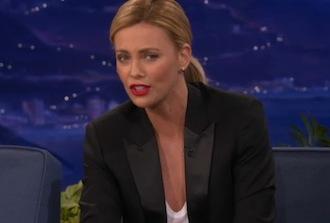 Charlize Theron spooks easily.
OK! GALLERY: CHARLIZE THERON WOWS ON THE RED CARPET OF AT THE YOUNG ADULT PREMIERE IN BEVERLY HILLS
The Snow White and the Huntsman star was a guest on Conan last night and got to talking about her worst date ever. Well, it was technically for charity, so there's that, but Charlize swears she'll never again willingly allow herself to be auctioned off.
"It's, like, the worst idea ever. It's one of those things... I was like, 'Yeah, I am a dumb blonde,' " she told Conan O'Brien. "They trick you with the 'People are suffering' thing. You fall for it, and before you know it, you're at a restaurant with some stranger, like you could end up in Jeffrey Dahmer's apartment!"
Article continues below advertisement
Charlize continued, saying the man was creepy and strange and asked that Conan please not call it a "date."
"I went to dinner with a strange man. I was so scared that I made two of my girlfriends go and sit at the restaurant," she continued.
OK! NEWS: "I AM A RELATIONSHIP GIRL; THAT'S KIND OF JUST HOW I'M MADE"
During the interview she also admits an obsession to UFC, a brand of particularly rough martial arts.
"I don't know what it says about me that I like sweaty hot men bleeding all over each other and bashing in their faces," she said.