NEWS
Charlyne Yi Was Never Ever in a Relationship with Michael Cera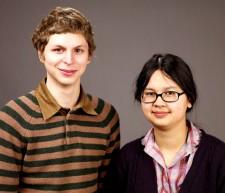 It seems the joke's on us, and Charlyne Yi, who's famous for her role in Knocked Up, got the last laugh. Fans of Yi and Superbad star Michael Cera were distraught after a report came out on the rumored "breakup" of the Paper Heart co-stars, who were said to be dating for the past three years.
However, with further investigation, Moviefone discovered that Charlyne found the dating rumors quite comical, revealing, "We weren't dating at the time... or ever. I also heard that we broke up. Someone sent me an article that said I was really sad. It says that I'm sad that we're touring together. But he's actually in Toronto right now filming a movie called Scott Pilgrim. So that's interesting."
Article continues below advertisement
We guess Charlyne and Michael were a little too good at playing a couple in Paper Heart! Maybe next time someone will start "reporting" that Charlyne and her Dirty Dancing spoof costar Channing Tatum will be running away together.