NEWS
Cheetah Girl Throws Hissy Fit Over Nude Photos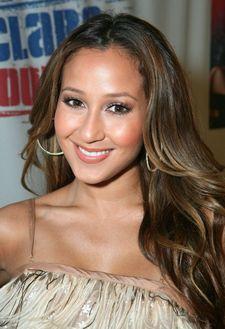 Another sweet and innocent Disney star has done it again! Cheetah Girl Adrienne Bailon says she's taking legal action after semi-nude photos showing her sans skivvies showed up on the Internet.
Bailon, 25, who dates Kim Kardashian's 21-year-old brother, Robert Kardashian, says the photos were for him, not for public display. Her laptop was reportedly stolen from her luggage cart at JFK airport last week, and was returned hours later by someone demanding $1000.
Article continues below advertisement
"It's not a scenario where she purposely leaked the photos for attention," Bailon's rep told the Daily News. "We're pursuing legal action."
Bailon, who filed a police report, says she has no idea who stole her laptop. Her rep says she is "absolutely distraught" over what happened but in the meantime will continue to tour the country with the Cheetah Girls.
Bailon is just the latest Disney star to be involved in a racy photo scandal. Images of a scantily clad Miley Cyrus hit the Internet last year. Nude photos of Vanessa Hudgens also hit the web in 2007.