NEWS
Chelsea Handler: "I Attract Nonsense in My Life"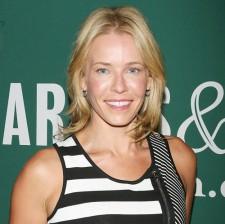 Chelsea Handler doesn't shy away from speaking her mind. The host of E!'s Chelsea Lately chatted with PopEater about her new book, a collection of essays titled Chelsea Chelsea Bang Bang, and all the weird things that happen to her that she didn't hold back from writing about — like how her father threatened to sue her!
OK! VIDEO: JEN ANISTON ADMIRES CHELSEA HANDLER'S HOT BOD
Chelsea's new book is being held up to high standards — her previous book reached number one!
Article continues below advertisement
"Yeah, I'll probably be disappointed," Chelsea told PopEater. "I've got some serious competition out there now. Karl Rove."
From the very first essay, Chelsea doesn't hold back and talks about discovering masturbation when she was a child.
"I talk about masturbation in my stand-up routine," she explained. "I'm not embarrassed by anything I say. It's all pretty ridiculous."
She's not embarrassed but that's not the case with her family.
"They are completely embarrassed. My dad threatened to sue me," Chelsea said. "I was on the Today show and I said he's dating his 20-year-old Jamaican cleaning lady and he said, 'Please don't say that. I don't want people to think I'm off the market.' And I'm like, nobody wants you on the market, because you're so gross and you look like a bowling ball. Then he said that he could sue me and I said no, because you'd have to borrow the money off me to sue me, so no."
Article continues below advertisement
OK! NEWS VIDEO: KRISTIN CAVALLARI — I'VE GOT A PERSONALITY UNLIKE LC
"I attract nonsense in my life," she explained. "You should see the group of people I'm sitting in a car with now. I think I'm just a little bit off, so I like to have people around me who are just a little bit off-er, so I look a little more normal."
Some nonsense she's working on now is executive producing a couple crazy shows on E!.
"One of them is called Pretty Wild, and it's a pretty embarrassing show," she said. "It makes the Kardashians look pretty classy."
OK! NEWS: SNOOKI AND HER JERSEY SHORE CASTMATES BRING THE SPRAY TAN TO CHELSEA LATELY
As for men in her life, she agreed that she has tortured her boyfriend a lot — but no longer.
"I don't anymore," Chelsea said. "I tortured him so much we broke up."
"It's okay. He's going to get over it one day," she joked. "That's mean to say. I'm going to get bad karma in my next relationship. I shouldn't say that, but it's true."
So is she back on the market?
"I am looking," Chelsea confirmed. "Will you put it on AOL that I'm looking for someone of Polynesian or maybe Asian descent? I want to do something I haven't done before."