NEWS
Chelsea Handler to Jennifer Aniston: "I'm Not Good for a Wingman"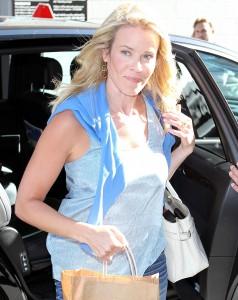 As a guest on Chelsea Lately, Jennifer Aniston told her BFF Chelsea Handler, they need to go on a "manhunt," and the host clears the air about their search for a male specimen.
"She's on her own," Chelsea tells OK! at the 2010 MTV Video Music Awards. "I'm not good for a wingman. No one wants to be seen with me."
JENNIFER ANISTON ACCIDENTALLY SAYS "RETARD" ON 'REGIS AND KELLY'
The comedienne recently broke up with David Salmoni the host of Animal Planet's Into the Pride, and back on the market.
Article continues below advertisement
Chelsea joked: "Nobody will date me!"