NEWS
Chelsea Handler: Jennifer Aniston Sends Me Really Funny E-Mails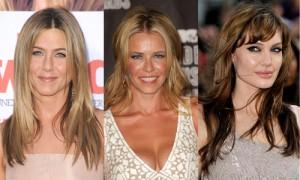 Chelsea Handler always shows her allegiance to Team Aniston. Her rants against Angelina Jolie are frequent on her late night show, as are her accolades for gal pal Jennifer Aniston. And now she is even voicing her opinions in print, calling Jen funny and Angelina insincere in the latest issue of Glamour magazine.
Katie Couric interviewed the foul-mouthed host for Glamour, and made sure to ask Chelsea about her most recent on-stage rant about Angie during a comedy show.
Article continues below advertisement
"Yeah, I'm not a fan," Chelsea admits. "She just doesn't come off to me as a sincere woman. She seems like a woman that you'd really want to avoid."
OK! NEWS: CHELSEA HANDLER FIGHTS FOR JENNIFER ANISTON; CALLS ANGELINA JOLIE A HOMEWRECKER
As far as her close friend Jen — who she spent the Thanksgiving holiday with in Mexico — Chelsea doesn't have one bad word to say.
"Jennifer Aniston makes me laugh," she says. "She's irreverent and hilarious, and she sends me really, really funny e-mails."
As for her love life and the 50 Cent "dates" that recently sparked pandemonium, Chelsea says: "He came to my show in New Orleans with 15 people, and they take a photo of us and assume that we're a couple," she explains. "But he's really cute, and I have to be honest, there's a good chance that I will end up hooking up with a rapper at some point."