NEWS
Chelsea Handler Talks Her Bikini-Clad Thanksgiving With Jennifer Aniston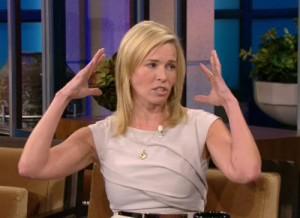 Chelsea Handler had a sun-filled Thanksgiving holiday in Mexico with close pal Jennifer Aniston. The comedian shared tidbits from her trip last night on The Tonight Show with Jay Leno, cracking jokes about what it is like to stand next to a bikini-clad Jen, 41, whose body is admired by many.
"I was trying not to get photographed next to her in a bathing suit, for obvious reasons," Chelsea told Jay. "So I did a lot of stuff on my own."
Article continues below advertisement
"It's not even cute! I was probably trying to bend over and pick up a margarita," Chelsea told Jay after he showed a picture of a bikini-clad Chelsea bending over with her bum in the air. "You know how I feel about my margaritas, Jay!"
From Jen, Chelsea went on to talk about all of those 50 Cent dating rumors.
"I can't bring 50 Cent with me, 'cause he's not a strong swimmer," she quipped with her usual controversial humor.
Jay, trying to correct Chelsea, asked, "It's Fiddy Cent, isn't it?"
"I don't know, I call him Curtis when we're having sex," Chelsea joked. "No, but he does have a real name. His name is Curtis. Curtis... I don't know, I should find out."
As for her ex-boyfriend Dave Salmoni: "We just did not have anything else to talk about," she shared."No, he's a really nice guy… It was a short relationship, you know, in and out."