NEWS
Cheryl Hines Shares St. Patrick's Day Tradition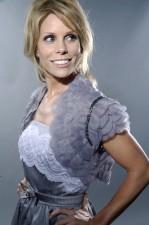 For Cheryl Hines, St. Patrick's Day is another opportunity to show daughter Catherine, 5, the joys of celebrating holidays.
The 44-year-old actress, who directed Kristen Bell and Justin Long in Serious Moonlight, shared her plans for Catherine's swanky Valentine's Day party, and now it's time for a dash of green.
"My daughter likes to put green food coloring in everything," Cheryl tells me. "Last year, we might have had some green mashed potatoes and green applesauce."
Article continues below advertisement
But St. Patrick's Day isn't much different from other days in the family household that includes hubby Paul Young, whom she married in 2002.
"She likes to do what she calls making potions," Cheryl says. "She'll get out a big bowl and put everything she can find from the pantry into the bowl, and that's her potion. It's not a good use of food."
She adds, "All she does is beg me to taste it. Well, one time, I told her I'd give her $10 if she tasted it, and she wouldn't do it. Believe me, she'll do anything for a buck. That's how bad it is."
Despite her daughter's passion for cooking, Cheryl thinks Catherine aspires to be on the stage and not in the kitchen.
"I worry that she's going to be a comedian," she says. " That's what I'm worried about because in her preschool last year they had a talent show at the end of the year, and she did stand-up comedy with jokes that she wrote by herself, and most of them, the punch line had to do with poop. Just to let you know."
Article continues below advertisement
Eek!
"I felt very proud. She got a laugh. That's the main point. If she wasn't getting a laugh, it would've been hard to watch."
Lucky for Catherine, Cheryl takes a laissez-faire approach to motherhood.
"I'm a pretty easygoing parent. I'll be strict when I have to about something, but it's few and far between."
These days, Catherine can be found curled up with a book.
"She's learning to read, so that's pretty great," Cheryl says. "She's reading words here and there, but she can spell the word 'because,' which is pretty impressive to me because I don't think I learned how to spell 'because' until fourth grade. I'm very impressed with her."