NEWS
Cheyenne's singing TV role!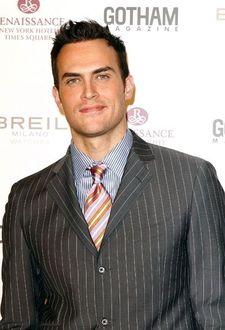 You know I love me some Broadway. I've been fawning over super hottie singer Cheyenne Jackson for years.
Now I can be doubly happy that TV Fanatics can fall for him too.
Tonight, the crooning hunk, who's been all over the airwaves lately, makes a guest appearance on Ugly Betty!
The Xanadu on Broadway star says he had a blast playing a "gay dad" who becomes the love interest of Michael Urie's character Mark.
Article continues below advertisement
"Michael's a friend of mine in real life so it was very fun to film," Cheyenne told OK!'s Oliver Coleman recently at the Broadway Backwards 4, a performance in support of the LGBT Community Center.
"Plus they're a great group, a wonderful little family, and they're very theater friendly. Everybody knew who I was which never happens!"
Cheyenne admits it's a small part, but he's hoping, "if they like it, they'll write more."
If that happens, Cheyenne is going to have a busy fall. The TV Fanatic hears that the singer is about to film an upcoming guest spot on the new Fox series Glee.
Created by Nip/Tuck showrunner Ryan Murphy, the musical comedy follows a high school singing group trying to get to nationals.
Well, Cheyenne would be a perfect fit!
Check out Cheyenne on Ugly Betty, Thursday March 5 at 8 p.m. on ABC.
Mark your calendars. Fox is running a sneak peek of Glee May 19.