NEWS
China Censors Oasis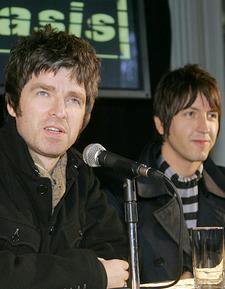 It's Oasis' lucky day!
The once-edgy band were last controversial in appoximately November 1997.
But today the Indie legends got their old cred back when the Chinese government told them to stay the hell out of their country.
The strict state had given them permission to play two shows in the country next month.
But then it withdrew the invitation when officials discovered singer Noel Gallagher had played a Free Tibet rally 12 years ago.
Article continues below advertisement
According to the NYTimes.com, the government -- which doesn't like criticism of its controversial rule over Tibet -- has been cracking down on Western performers who support independence for the tiny state since Bjork yelled "Tibet! Tibet!" during a Shanghai show last year.
The Brits says they're "baffled" by the U turn, according to the site.
"Oasis are extremely disappointed that they are now being prevented from undertaking their planned tour of mainland China," they said in a statement, "and hope that the powers that be within China will reconsider their decision and allow the band to perform."
The Wonderwall stars had been expected to play in Beijing on April 3 and Shanghai on April 5.
And here's the moment that causing all their woes: