NEWS
Chloe Lattanzi speaks!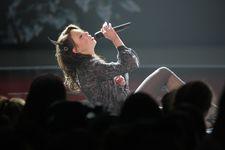 Rock the Cradle's Chloe Lattanzi and American Idol's Syesha Mercado should start a club. They're the only girls left standing in their respective reality singing competitions. Chloe tells me why being the only XY chromosome on the Cradle stage makes her already feel like a winner.
Does being the final girl give you an edge?
I'm just grateful to still be here and having a good time. I don't think of the ultimate prize as the ultimate prize. I've grown so much as a performer and a person. No matter the outcome, I've developed a little bit of a following. I'm excited regardless of what happens.
Article continues below advertisement
What's been your strategy to make it to the final three?
I kind of went in without any expectations. I wanted to do this for me. I just was myself and stayed true to who I was musically.
You sang your mom's signature song, "I Honestly Love You," during Parent's Mega-Hit week. How did you come up with changing it and making it more for you?
I got to reproduce it to be stylistically in vein. That was really fun to take a great simple melody that you can twist up to be your own.
Do you describe yourself as a rocker?
I'm not really in a box. I pull from a lot of different creative influences. I wouldn't call me pop porn! I'm an alternative pop artist, but I'm still growing and learning new stuff about myself every day.
What's the best advice your mom has given you?
Always connect with what yourself saying and the story you're telling on stage. And have fun! Don't take yourself too seriously.
You look terrific. Are you taking good care of yourself?
I am feeling great, thank you.
Rock the Cradle, season finale, airs Thursday, May 8 at 10 p.m. on MTV.