NEWS
Cholera Outbreak in Haiti Kills 138 in Two Days; Wyclef Jean Tweets Concern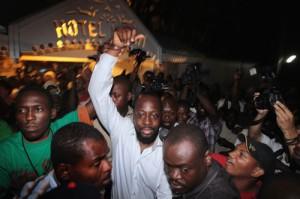 More tragedy has hit the poverty-stricken, earthquake-ravaged nation of Haiti. Hospitals are overflowing with patients who have been stricken by a fast-moving cholera outbreak that has killed at least 138 people in two days, CNN reports.
"This is totally unprecedented," said Terry Snow, Haiti director for the non-profit Youth With a Mission and a resident of Haiti for 20 years, told CNN. "We have never had an outbreak like this."
Article continues below advertisement
"It's very chaotic," Snow continued. "People are trying to figure out what to do. People are lost."
Ill Haitians are continuing to line up outside hospitals and clinics, sometimes forced to wait over 24 hours before receiving medial attention.
"It's terrible," Sandrellie Seraphin, who works for Partners in Health and the Clinton Foundation, told CNN. "There's a great fear among the people."
Approximately 1,526 people have been sickened in some way as part of the outbreak. All the cholera diagnosed has been found north of the nation's capital, Port-au-Prince.
OK! NEWS: WYCLEF JEAN SLAMS SEAN PENN VIA SONG
The outbreak can be traced back to recent flooding and contamination in the impoverished country's water system.
Hollywood outreach has not been as proactive compared to the effort following the earthquake, so it will be interesting to see how fast celebrities will rally around Haiti and its continuing need for aid.
Haitian presidential candidate and Grammy-winning artist, Wyclef Jean is urging people to get involved and of the severity of the situation on Twitter.
Watch clips below learn more about the devastating cholera outbreak in Haiti and how you can help.