NEWS
The Chopping Block's Marco Pierre White Keeps Quiet!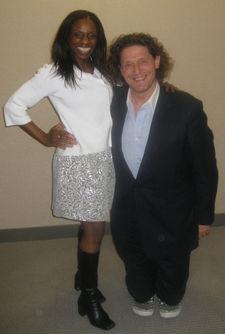 Forget everything you've read about celebrity chef Marco Pierre White, who debuts tonight on The Chopping Block.
Sure he's billed as the guy who made Hell's Kitchen star and former mentee Gordon Ramsay cry.
"He made himself cry," Marco deadpans.
But I'm convinced Britain's newest culinary import is nothing but a softie.
What other 6'3" restaurant mogul would get down on his knees (literally!) to make a 5' journalist feel right at ease?
Article continues below advertisement
Those expecting to see Marco, who judges as eight couples compete for the chance to start their own restaurant, lose his temper on the new competition series, think again.
"I'm not there to scream, to shout or to swear. I don't think it's necessary," he shared during a chat inside the OK! office.
"They have their challenges. I'm just there to guide them, to be their friend – and to sack them."
Marco's secret ingredient when giving the pink slip to losing contestants? The silent treatment!
"Sometimes I say, 'I'm going for walk around the block, I'll be back in 15 minutes and I'll give you my decision,'" he revealed.
"Then I just sit down, look at them and say nothing. Or I ask them what happened while I was away."
Heartless? Nah.
"Sometimes I sack them right away to put them out of their misery, and the pain is not prolonged anymore," he said.
See?
Marco shared his vision for The Chopping Block's winner in these tough economic times.
Article continues below advertisement
"Open a little sandwich shop on the beach somewhere for $10,000 and have $240,000 working capital," he said with a laugh.
"It's genius. If they go bust after a week, they've got the cash."
Being a world-class chef, Marco's got the likes of fellow food connoisseurs Mario Batali and Anthony Bourdain on speed dial.
But he stressed he didn't get any advice from them on winning over the American viewing audience.
"I don't want to be confused by others. I just do my job, as I always have. My friends are not consultants," he explained.
"I'm just a bloke from England who was brought to America to sack a few people," he continued.
"It's quite nice sacking. I kind of enjoyed it."
Celebrity Apprentice's Donald Trump would be proud.
The Chopping Block premieres Wednesday at 8 p.m. on NBC.