NEWS
Choreographer Mia Michaels Says Tom Cruise is "Fearless, Sexy" in 'Rock of Ages'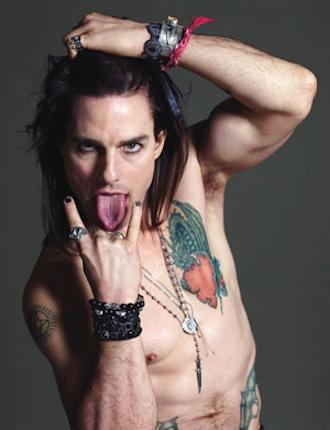 Mia Michaels, head choreographer in Rock of Ages, bonded marvelously with Tom Cruise and tells OK! what it's like working with Hollywood's head of the A-list.
OK! NEWS: TOM CRUISE SINGS BON JOVI SHIRTLESS IN NEW ROCK OF AGES TRAILER
"Working with Tom really was a game changer for me," she said. "I'm a huge, huge fan after working with him. It was so intense and so awesome because he has the fearlessness of a child when he's diving into a character. There's just no ego."
Article continues below advertisement
While Tom's caught heat for jumping on coaches and delving into controversial debates on morning TV (we all remember how he called Matt Lauer "glib" on The Today Show after they talked about anti-depressants), Mia explains that his intensity and passion are perfect excitement makers on- and off-screen.
"He's a complete workhorse," she said. "When he's given a challenge, he takes it on 100% and he doesn't stop."
While Tom isn't a classically trained dancer, he was forced to learn the rock 'n roll swagger of Stacee Jaxx and some of the fictional rock hero's stage moves.
"We were rehearsing 4-5 hours a day, everyday, and it was about drilling those gestures and that physicality," she said. "It was so cool watching the transformation in Tom. He wasn't a dancer, but he became this crazy, quirky, like physical dancer and performer and it looked so natural."
Article continues below advertisement
OK! NEWS: MALIN AKERMAN SAYS ROCK OF AGES CO-STAR TOM CRUISE IS "SUPERHUMAN"
Rock of Ages opens this Friday and Mia is quick to tell us how this role will make us look at Tom in a different way. A dirtier way.
"I think that the role is so sexy," she said. "He's a good-looking man and he has his roles and we all love Tom Cruise, but this is a side of him that I feel like is just gritty ­ gritty and raw and just rough around the edges, and I love it!"
Are you excited for Rock of Ages or will you pass?
Reporting by Kaitlyn Monteiro