NEWS
Chris Brown Already Moved On To Next Girlfriend?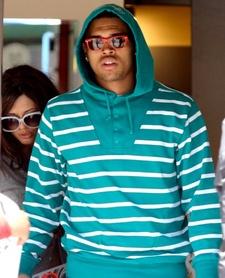 Though Chris Brown and Rihanna had appeared to reconcile following his arrest for allegedly assaulting the singer, it doesn't look like the on-off-on couple is making any attempt to even pretend that they're still an item.
On Saturday, X17online.com reported that Chris was joined by an attractive young lady — believed to be Natalie Mejia from the group Girlicious — at a tattoo parlor on Sunset Blvd., where he selected his next bit of body art (We're guessing it's not "Rihanna").
Article continues below advertisement
And then on Saturday night, a Rihanna-free Chris enjoyed a boys' night out with Tyrese, Omarion and actor Keith Robinson at Lucky Strike Lanes & Lounge in L.A. Chris arrived around 11:45PM, and Omarion and arrived shortly after and met him in the luXe Lounge.
Hanging out with his guy pals in the exclusive luXe lounge, witnesses tell OK! that Chris "appeared happy and was dancing around," and "was being very flirty with the wait staff."
"One of the female bartenders came into the private room to cash-out and Chris noticed her immediately," an insider tells OK!. "It seemed as if he was definitely into her."
Chris' next court date for the assault charges is April 29, at which point it's expected a plea bargain will be entered, one that could possibly even include some jail time for the star.