NEWS
Chris Brown and Rihanna Caught in a New Scandal. You Have to See It to Believe It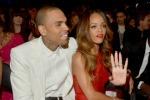 Chris Brown and Rihanna are standing trial in the court of public opinion all over again thanks to a new Law & Order: SVU episode that claims to be "a familiar story of two celebrities, intertwined by abuse."
Watch: Why Katy Perry Doesn't Want Chris and Rihanna Together
In a promo for the show, which airs tonight (NBC, 9pm ET), a woman is shown beaten up with a nasty black eye. In the next scene, she's in bed holding a sheet to her chest. "Caleb I'm sorry!" she yells.
Article continues below advertisement
"You don't know me! I'm a lover, not a fighter," the character Caleb tells reporters in another scene.
"I'm personally not interested," said one YouTube commenter of the episode that's been ripped from old headlines. "It looks ridiculous."
"No crime is safe from this show," adds another.
Do you think the episode is in poor taste or perfectly acceptable? Will you watch? Tell us in the comments section or on Twitter @OKMagazine