NEWS
Chris Brown's Entourage Insist Drake Started Nightclub Brawl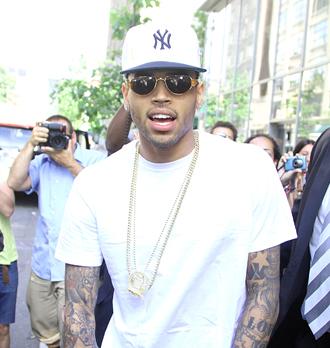 Article continues below advertisement
Apparently, right before 4 a.m. Drake sent a note over to Chris' table that read: "I am f***ing the love of your life."
This is where Rihanna (who wasn't present) gets wrapped up in this whole ordeal, as it's been widely speculated she's hooking up with Drake.
Even though Chris has moved on and is currently dating model Karrueche Tran, he was visibly upset and "threw the note on the ground."
Out of nowhere, the source continues, members of Drake's entourage including rapper Meek Mill, started giving Chris the middle finger, yelling in his face and spitting expletives.
OK! NEWS: DID DRAKE GET INTO A FIGHT WITH CHRIS BROWN OVER RIHANNA?
"Chris told Drake to f**k off, and the next thing I could hear is the sound smashed glass and mayhem started," the source explained. "Somebody in Drake's group — I don't think it was Drake — swung at Chris, but missed. Chris didn't swing back, he just tried to brush them off. He told us, 'Let's go,' but there were bottles flying at us. I saw one bottle was thrown, it looked like a vodka bottle, and hit Chris on the face." Five people were reported injured from airborne bottles, with one Brooklyn woman telling the paper she was bleeding so heavily she thought she was "going to die."
Both Chris and Drake's reps deny either of their clients were in the wrong at W.i.P., while NYPD detectives are investigating surveillance tapes.
Chris has already spoken to police, and Drake (who's on tour right now in upstate New York) plans to do so at a later date.