NEWS
Chris Brown Has a Playful Puppy Buddy on the Beach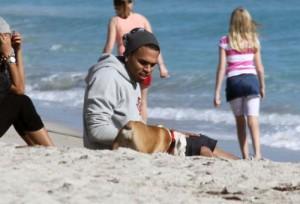 Chris Brown wants everyone to know that he's a changed man. Well, hanging out with an adorable bulldog puppy on the beach certainly doesn't hurt his image any. Chris and the pup frolicked in the Miami sand, along with his rumored new galpal, Jasmine Sanders. For the most part though, Chris and his canine cohort took up most of photographers' attention.
Article continues below advertisement
Chris and ex Rihanna both asked fans recently to move on from their domestic dispute incident, where Chris hit and beat up his then girlfriend.
The singer/dancer has been maintaining a pretty low profile, something his new lady Jasmine is learning, as she reportedly stepped back from Chris once she realized she was being photographed.