NEWS
Chris Brown Mad at Stores Not Selling His New Album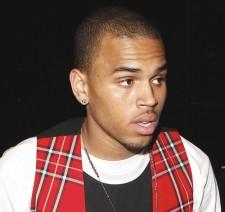 Chris Brown took to his Twitter over the weekend to take out his anger on a New England Wal-mart. He said the big retail chains are "not stockin the shelves and lying to customers" after he couldn't find his new album Graffiti on the shelves. "im tired of this s--t," he Tweeted at noon on Friday, adding, "major stores r blackballing my cd. not stockin the shelves and lying to costumers. what the f--k do i gotta do."
Article continues below advertisement
He the added, "yeah i said it and i aint retracting s--t. im not biting my tongue about s else..."
After fans complained to Chris that they couldn't find his album, he made a trip to a Walmart in Wallingford, Conn., to see for himself. "the industry can kiss my a--," he Tweeted. He said the store "didn't even have my album in the back. not on shelves, saw for myself."
Turns out that Chris couldn't find his album either, and took his problem to those in charge at the store, Tweeting, "the manager told me that when there are new releases its mandatory to put em on the shelves.. BUT NO SIGN OF GRAFFITI."