NEWS
Chris Brown Nude Photos: Singer Exposed in Full-Frontal Image Leaked Online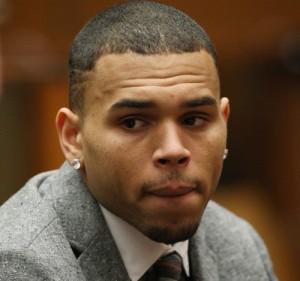 Just as Chris Brown moves on from his tainted past, a new scandal has emerged. A full-frontal, nude image of the star has leaked on the Internet.
The nude photo first leaked on Friday and shows the 21-year-old singer standing full-frontal in bathroom mirror, taking the picture with his iPhone, MTV News reports. It first appeared on WorldStarHipHop.com, and is rumored to have been leaked by an ex-girlfriend.
Article continues below advertisement
The photo seems to be recent as Chris sports his new tattoos and his dyed blond hair, which he first debuted late last month. He looks like he is concentrating as he takes the image in the mirror.
According to MTV, Chris first Tweeted "WTF!!! Here we go!!!", but that Tweet has since been deleted.
However, following the release of the photo, Chris thanked fans for their support on Saturday, Tweeting: "Another day, another lesson, another party. I'm so thankful to have the support of my fans with my music! Love."
He followed up with, "Stop living for everyone else and live your life." The last Tweet may have been directed at the person who leaked the photo.
Chris has been working hard on trying to reinvent his image and the leaked photos comes right before the release of his highly-anticipated new album, F.A.M.E., slated for March 22.
On Feb. 22, Chris appeared in court for a probation progress report hearing in L.A., asking the court to modify a protective order requiring him to stay at least 100 yards away from Rihanna.
Brown pleaded guilty to assaulting his then pop star girlfriend after a pre-Grammy Awards party in 2009. He was given a sentence of five years probation and ordered to complete 180 days of community labor and a year of domestic violence counseling.