NEWS
Chris Brown Performing on 'Dancing With the Stars' Post 'GMA' Fiasco: Tom Bergeron Hesitant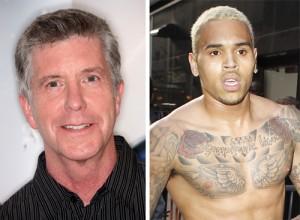 Chris Brown will be performing this week on Dancing with the Stars Tuesday, during the hit ABC dance competition's first Season 12 results show, after his meltdown after a Good Morning America interview last week threatened his relationship with the network. DWTS host Tom Bergeron opened up to Ryan Seacrest today and revealed he is a little hesitant about interviewing the excitable 22-year-old singer.
Article continues below advertisement
"I did tell the producers it may be to their advantage to not have me interview him, because my natural tendency would be to say something," Tom told Ryan on "On Air With Ryan Seacrest" KIIS FM radio show today. "So don't put me in a position where you are asking me to not say something, because I really won't do that."
"They will probably have me in a Hannibal Lecter suit," he quipped.
Tom also dished on the Season 12 contestants, explaining he has concern about the overall popularity of the group.
"I was a little concerned because the last two seasons have had lightening rod contestants like a tabloid Kate Gosselin and political Bristol Palin. This season felt a lot more like an earlier season of the show."
As for the early fan favorites, Ralph Macchio and Kirstie Alley, Tom said: "Ralph is like Fred Astaire with Rod Blagojevich's hair. He was amazing! I think Kristie Alley acquitted herself far better then any of us ever thought she would. It was amazing to watch her, and I don't think I've ever seen Max happier!"
Listen to Tom's interview with Ryan below! Are you happy Chris will be performing on DWTS?