NEWS
Chris Brown Reaches No. 1 With F.A.M.E Despite 'GMA' Outburst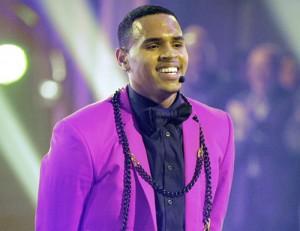 Nothing like a good meltdown to promote an album. Looks like Chris Brown's Good Morning America outburst last week helped catapult the R&B singer's new album F.A.M.E. to No. 1 on the charts! F.A.M.E. landed at No. 1, with first-week sales of 270,000 copies, on Billboard Top 200 Albums chart, despite the 22-year-old singer's tirade after GMA last week when interviewer Robin Roberts asked him about legal issues stemming from his 2009 assault of then-girlfriend Rihanna rather than limiting the interview to discussion of the album, which dropped March 22.
Article continues below advertisement
OK! VIDEO: WATCH CHRIS BROWN PREFORM ON DANCING WITH THE STARS RESULTS SHOW
Chris did apologize one day later on BET's 106 & Park show: "I felt like they told us this just so they could get us on the show to exploit me. That's what I thought. So I kind of took it very, very hard. And I kept my composure throughout the interview, although you could see me upset, you know. I kept my composure and did my performances, and when I got back, I just let off, like, steam in the back … I just had to release the anger that I had inside me, because I felt like I worked so hard for this music."
He has since performed on ABC hit Dancing With the Stars and even got a standing ovation from the crowd.
"CBFAMEnumberONE" Chris Tweeted followed by, "I live for my music!! I survive for my fans!!!"
Are you happy to see him succeed? Do you think his notoriety helps album sales? Share your thoughts in the comments section below.