NEWS
Chris Brown & Rihanna are Big Winner at AMAs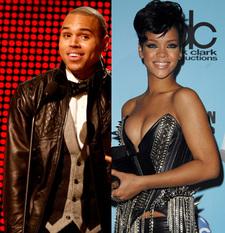 It was a great night for Rihanna and Chris Brown on Sunday, as the all-but-official couple walked away from the American Music Awards with victories in five of the night's biggest categories, including the AMAs' top prize.
Rihanna should have known it was going to be a good night right from the start, when she was the first winner to be announced during Sunday night's live broadcast on ABC. The first award for the 20-year-old beauty was in the Favorite Female Soul/R&B Artist category, making it the second year in a row that she's won that particular award.
Article continues below advertisement
Later in the evening, Rihanna's widescale appeal became very apparent when she was also awarded the title of Favorite Pop/Rock Female Artist of 2008.
Her impressive feat in winning both categories was repeated on the Male side by Chris, who not only won both the Soul/R&B and Pop/Rock awards, but also bested the night's most-nominated star, Alicia Keys, in taking home the Artist of the Year trophy.
While Alicia may not have won the big prize, she did manage to earn her fair share of awards on Sunday night. Her album, As I Am, swept the Soul/R&B and Pop/Rock album categories.
Another double-winner on the evening was Kanye West, who — in typical Kanye fashion — gave two very different, and very quotable acceptance speeches.
First, while accepting the award for Favorite Hip-Hop Album, he likened himself and his contemporaries to "the new Beatles" and ended by saying, "I wanna be Elvis!"
Of course, that opened the door for AMA host Jimmy Kimmel to point out that "Elvis died on the toilet with half a jelly donut in his mouth."
And then, in an even more bizarre moment, Kanye gave away — or at least said he was giving away — his award for Favorite Male Hip-Hop Artist to Lil Wayne.
"If it were last year, this would have been my award," explained Kanye, who has never shied away from claims of being snubbed by various awards shows. "This year it's Wayne's award... See what happens next year."