NEWS
Chris Brown & Rihanna Ask Their Fans to Stop Reliving 2009 Assault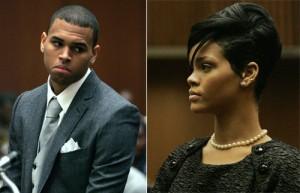 Chris Brown and Rihanna showed a practically united front over the weekend when they took to their Twitters to tell their fans to move on from their 2009 assault incident.
OK! GALLERY: RIHANNA IS ALL RIGHT WITH TIGHTS
The conversation on the 2009 assault between Chris and his girlfriend at the time, Rihanna, started when one of her fans asked her to avoid speaking about the incident, MTV News reports.
Article continues below advertisement
"AGREED!" Rihanna Tweeted in reply. "People won't stop asking about it! It's f---in' annoying! Nobody wants to relive that, but some ppl can't respect that!"
"I get it," she added. "They wanna raise awareness to young girls! But it ends up just making me look bitter, pitiful, spiteful and angry!"
OK! GALLERY: RIHANNA LENGTHENS HER LOCKS IN THE BIG (RED) APPLE
Chris was sentenced to 180 days of community labor (he's now completed), put on probation, and he and Rihanna have been ordered to stay away from each other.
And it sounds like both Rihanna and Chris would like their fans to move on from the incident just like they have.
Chris took to his Twitter and told both "Team Breezy" and "Rihanna Navy" to move on.
"Y'all starting to sound extremely childish! #teambreezy and #rihannanavy It's pointless," Chris Tweeted. "Love team breezy & thank you rihannanavy for supporting ya girl."