NEWS
Chris Brown: "Rihanna & I Will Always Be Friends"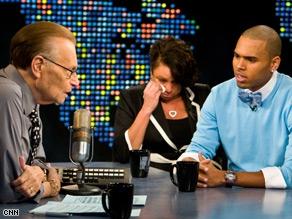 Now that he's owned up in the court of law to his assault of former girlfriend Rihanna, it's time for Chris Brown to beg for mercy in the court of public opinion. His first stop: CNN's Larry King Live, where the singer sat down to talk candidly about the incident.
In the interview, set to air Wednesday night on CNN, Chris admits to Larry that he's still in love with Rihanna and is now shocked at the hurt he inflicted on her last February during an argument while driving in his car — in fact, he says he has no memory of the incident.
Article continues below advertisement
"When I look at it now," he says, speaking of the infamous police photo taken of Rihanna only minutes after the assault, "It's just like, wow, like, I can't — I can't believe that — that actually happened."
Of his hard labor sentence, Chris tells Larry, "everything comes with consequences. They want me to pick up trash remove graffiti... I'm a hard worker. It's something I'm willing to do."
Chris' mother, Joyce Hawkins is also there for the interview and says of her son, "Chris has never, ever been a violent person, ever."
Joyce and Chris claim that her former husband was abusive. "I used to be scared to go to bed," he recalls. "Nobody taught us how to love one another. Nobody taught us a book on how to — how to control our emotions or our anger."
He adds, "I wish I could have changed that night."
As for what's next, Chris says, "I just need to prove to people I can be a role model... "That's not who I am as a person, and that's not who I promise I want to be."
When asked about Rihanna dating other men, he admits, "I definitely would be affected by it, but, at the end of the day, I mean, we're not together, so, if she's happy, I'm cool... We'll always be friends."