NEWS
Chris Brown in Trouble With Police? ABC Called the Cops After Singer's Outburst, Report Says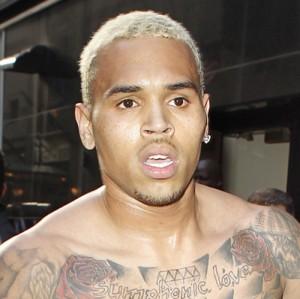 Chris Brown may be in for some more legal woes. Reportedly, ABC staffers called the cops after the singer's outburst earlier today on Good Morning America where he reportedly smashed a window after his live interview with Robin Roberts did not go how he planned.
Chris allegedly broke a window in his dressing room with a chair, sending glass onto the street outside of ABC studios in NYC.
Article continues below advertisement
According to TMZ, during the conversation between an ABC staffer and a glass repairman, the staffer says "I have a police officer coming just to take a look at it before we do any work."
Listen to the audio HERE.
But despite the convo, police have not been to the scene yet.
NYPD sources told TMZ none of their officers were dispatched to GMA studios.
If is is proven that Chris smashed the window, he may be charged with two crimes — vandalism and assault on the passersby below because of the pieces of glass which fell onto 43rd Street and Broadway.
Chris would also be found in violation of his probation.
Chris was sentenced to five years probation and 180 days of community service after pleading guilty in to assaulting Rihanna in February 2009.
A judge recently decided to relax the restraining order against him, and when Robin tried to ask him about that this morning, he became very irritable.
"It's not really a big deal to me now, as far as that situation. I think I'm past that in my life. Today's the album day, so that's what I'm focused on," he said.
He is currently in NYC to promote his new album F.A.M.E.