NEWS
Chris Brown's Cousin Says He Was "Provoked"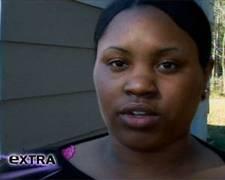 Chris Brown has maintained a low profile since his reported fight with Rihanna last Sunday. The same, however, can not be said for members of his family.
Earlier today, Brown's stepdad spoke out denying that he had ever been abusive to Brown's mother--something the singer vehemently disagreed with in a 2007 interview. And now, the R&B singer's cousin has stepped forward, making a controversial claim to Extra.
Article continues below advertisement
In a new interview airing tonight, Phylicia Thompson says of her cousin, "Chris was not brought up to beat on a woman. So it had to be something to provoke him for Chris to do it."
Thompson continues, "He wouldn't have done it just to be having fun...But what happens behind closed doors, nobody ever knows."
She says that Brown is feeling down in the dumps right now because of the media attention the incident has received.
"He might feel down right now because his fans are looking down on him, like he's done something wrong," says Thompson. "Of course, yes, he's done something wrong because he put his hands on her, but like I said, you don't know what happened. He had to be provoked to do it. Chris would never have done it."
Thompson, who last saw Brown in April 2008, adds, "Everybody loved Chris. This comes as a surprise to me. He was never a troubled child."
Growing up with Brown, Thompson admits, "It was fun. Me and Chris were close in age. He practically lived with us..It was pretty cool growing up with Chris. We had so much fun. He was just an active child. He liked to dance. He liked to sing. He liked to play sports."