NEWS
Chris Brown's Stepfather Speaks Out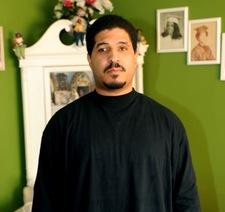 Donnelle Hawkins, the stepfather Chris Brown said he wanted to kill over his treatment of his mother, now says he's not surprised that Chris is in trouble for allegedly beating up girlfriend Rihanna, and that he never hit the superstar's mother.
"I never once raised my hand to his mother," Donnelle says. "It just never happened."
However, in a 2007 interview, Chris told a different side of the story: "He used to hit my mom... He made me terrified all the time, terrified like I had to pee on myself," Chris revealed. "I remember one night he made her nose bleed. I was crying and thinking, 'I'm just gonna go crazy on him one day...' I hate him to this day."
Article continues below advertisement
Donnelle, who is blind after accidentally shooting himself in the eye during an argument with Joyce Brown Hawkins, says Chris is blaming the wrong person.
"I believe that Chris is making these allegations because it is a way of not accepting responsibility of his own actions. Somebody has to be at fault, the scapegoat, and who else but me?" says Donnelle. "He blames me for taking his mom away from his dad, even though it didn't happen like that. Whatever issues he has, whether he thinks they come from me or not, he needs to get help for, get counseling."
He also denies hitting Chris, saying he only spanked him one time in the seven years they lived together in Tappahannock, Va.
"The one time I did raise my hand to spank him I guess he was 11 and he started hitting his mother," Donnelle insists. "I felt it was time for me to step up and do what I needed to do to stop the situation."
Of hearing that Chris had been arrested for alleged domestic assault, Donnelle says, "It was sad news. I'm sympathetic for Christopher and Rihanna. It's an unfortunate incident that neither one of them deserved or should have encountered."
I send them my prayers. And Chris in particularly, I'm very proud of his success, but whatever issues he has, whether they are the ones you claim came from me or whatever the situations are, you just need to focus on that and get counseling and the help that you need. We, as your fans and people that know you, don't want to hear of anything like this again. And whatever resentment or hatred he has towards me I just pray that it will stop."