NEWS
Chris Daughtry: My Wife Is My Best Friend!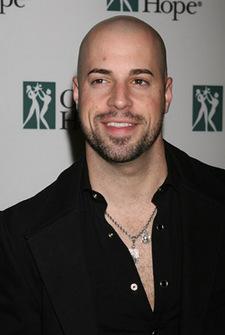 Almost two years after getting kicked off of American Idol, Chris Daughtry and his band are touring with Bon Jovi — did you hear that, Taylor Hicks? OK! caught up with Chris at the Mohegan Sun Resort and Casino in Connecticut as he prepared to go on stage. Chris, 28, said it's hard being disconnected from his kids, son Griffin, 9, and 11-year-old stepdaughter Hannah, and his wife, Deanna Robertson, while on tour, but hopes someday he'll have the chance to take them on the road!
Article continues below advertisement
Why are you and your wife such a great couple?
Just that it's my best friend so I just find it awkward. You marry somebody; you love everything about them. You grow to learn about them. You never learn everything. We've been married for seven years and I'm still as much, if not more, in love with her than when I married her. You find something all the time that you like about them or learn something about them as you go. It's hard to pin down.
What are your kids into these days?
My son's taking drum lessons, and my daughter's taking piano lessons. One day they're going to start a band.
Would you want them to go into show biz?
For me, I want my kids to find their way. If they're interested in something, I want them to try it out. I don't ever want to mold them into something that I think they should be. I want them to find their way in whatever that may be. I want them to be happy with what they decide to do for the rest of their life. I don't want to be that parent that puts my kids into what I think they should be in, you know what I mean?
What's your ultimate goal?
Have not only a long career doing what I love to do, but at the same time, at the end of all that, still have my family together and hopefully being able to take them out on the road with me a lot more.
What's been the biggest highlight of your career so far?
I think that was the highlight for us as well because we were abruptly awoken at 5:30 in the morning thinking there was a party going on in the bus when it was really one man and a pair of headphones, a beer in one hand and an air guitar in the other. It was something even waking up in the morning, I didn't know if it was real or if it really happened. That was probably more surreal than being on tour with Bon Jovi.