NEWS
Chris Evans Gets 'GQ' Reporter "Hammered" After a Night Out Together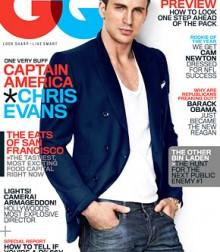 Chris Evans is following in the footsteps of Channing Tatum with his new interview for GQ magazine. Channing has been known to show a GQ reporter a good drunken time, but Chris has now taken it up a notch!
OK! VIDEO: WATCH ANNA FARIS & CHRIS EVANS IN NEW "WHAT'S YOUR NUMBER?" TRAILER
Channing has some competition!
Despite his publicist specifically telling him not to, he invited the reporter to come to his going-away party. "My poor publicist," Chris told GQ in their new issue. "She knows I like to drink. She was like, 'Please don't drink too much, please just don't drink too much — you're gonna take this person out, and they're going to ruin you.' "
Article continues below advertisement
Chris did, in fact, take his young female GQ reporter (Edith Zimmerman), and tried to have her keep up with his love for drinking.
And while Edith can't remember much of her time spent with Chris, she did leave with a huge crush on the Captain American star!
"Chris kept up frequent hand holding and lower-back touching, palm kissing and knee squeezing," she wrote. "He's an attractive movie star, no complaints."
OK! NEWS: CHANNING TATUM NAMED "AMERICAN'S MOST FUN MOVIE STAR" AFTER GQ INTERVIEW
Five days after a night out with Chris, Edith met up with him again in New York, along with his mother, and he "embarrassed her."
Says the reporter: " 'Edith was hammered!' Chris recalled to his mom. 'Hammered!' His friends, family, and I are all piled into a monster SUV, en route from the premiere party for his upcoming lawyer-drama Puncture to its afterparty on the Lower East Side."
Article continues below advertisement
And Edith was apparently so "hammered" that according to Chris, she tried to crawl out a window and wandered off.
" 'So then my buddy's like, 'I think your friend is having some trouble,' " Chris said, " 'and I look over, and there's Edith in the gutter!' (Not lying in the gutter. This I remember. Sitting on the curb, trying and failing to call a cab.)
OK! VIDEO: WATCH CAPTAIN AMERICA TRAILER FEATURING THE HOT CHRIS EVANS!
But eventually Edith found her way home, by hitching a ride with "a very pretty blonde, possibly Asian transsexual and her much younger male friend."
And while Channing was named "America's Most Fun Movie Star," after his interview with GQ, Chris has now been named "The Greatest Person I've Ever Met In My Life."
But only because the reporter had to write it to get her jacket back from his house!