NEWS
Chris Hemsworth Told Brother Liam to Diet: "It's 'The Hunger Games', Not The Eating Games!"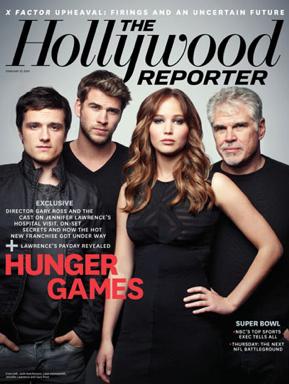 We can't wait for The Hunger Games! To help satisfy fans' cravings for the movie release, the cast is opening up about their work on the film in the new issue of The Hollywood Reporter.
Both Jennifer Lawrence and Liam Hemsworth got some advice about doing the project — but in very different ways.
OK! NEWS: THE HUNGER GAMES RELEASES NEW MOVIE STILLS
"It was the middle of the night in England, and I was in bed when I got the call," Jennifer recalls to The Hollywood Reporter about being given the role of Katniss. "And I was so in love with the books and the script, and suddenly it was right in my face — and the size of the decision was terrifying."
Article continues below advertisement
The Hunger Games has many diehard fans just like Twilight, and Jennifer could easily become the next Kristen Stewart.
"I called my mom and she called me a hypocrite, because when I was doing indie movies and everyone was asking why I didn't do studio movies, I said, 'The size of the movie doesn't matter.' And she said, 'Here's a movie you love and you were thinking of turning it down because of its size.' I thought, 'I don't want to miss out because I'm scared. Me being scared, I never want that to stop me from doing something.' But I knew in my heart that I wanted it — it was about working out all the fears."
After Liam took his role as Gale in the film, his brother Chris Hemsworth (who stars alongside Kristen in Snow White and the Huntsman) gave him some advice — whether it was wanted or not.
"My brother Chris texted me before shooting and told me to lose weight," Liam recalls. "He said, 'It's called The Hunger Games, not The Eating Games!' "
What a nice brother!