NEWS
Chris Jericho Says He Is Responsible for Pia Toscano & Mark Ballas' Love Connection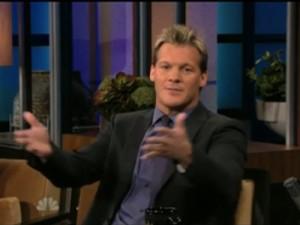 Chris Jericho is certainly a big deal on the set of his reality show Dancing With the Stars, but he is also gaining massive amounts of attention for his connection to another hit reality show — American Idol. The pro wrestler stopped by The Tonight Show With Jay Leno last night to talk about his Idol matchmaking skills and his DWTS gig.
Idol and DWTS tape in the same studio, giving Chis an opportunity to meet some of the contestants — he has become pals with rocker James Durbin and helped Pia Toscano make a possible love connection.
Article continues below advertisement
When sharing the story with Jay, Chris gave a great Pia impression.
"Oh, I really like Mark Ballas and he's so pretty," he said Pia told him, and so he simply facilitated the exchanging of phone numbers.
"I'm getting more coverage from like TMZ and all the tabloid shows than from anything I've done on Dancing With the Stars because I passed a couple of phone numbers over," he said.