NEWS
Chris Martin Jokes About Marriage to Gwyneth Paltrow: "She's Been a Great Beard for Me"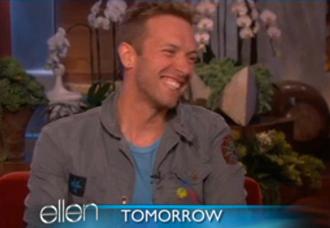 Chris Martin likes to keep his personal life personal, but leave it to Ellen DeGeneres to get the Coldplay singer to at least joke about his marriage to Gwyneth Paltrow.
Chris and his band member Jonny Buckland taped an apperance on The Ellen DeGeneres Show earlier this week.
"You have a great releationship and two precious kids. And we love Gwyneth," Ellen said (via Access Hollywood). "She's been here many times."
Article continues below advertisement
And Ellen's ploy to get Chris to talk about his relationship worked — kind of!
"She's been a great beard for me now, for 10 years," Chris joked.
"She just pretends that she's your wife?" Ellen asked.
"Yeah, it's hard to believe," Chris said with a laugh.
Chris' interview with Ellen airs Thursday on The Ellen DeGeneres Show.