NEWS
Christian Bale Apologizes For Tirade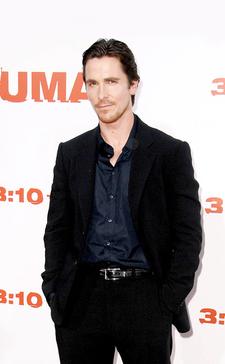 Just a few days after an expletive-filled, raging rant was leaked online of Christian Bale cursing out a crewmember on the set of Terminator: Salvation, the actor has offered up his apology by way of calling into a radio show.
Batman himself dialed in to KROQ L.A. this morning to try and make amends for his ballistic tirade against a director of photography who had walked into his shot for the second time, causing Christian to lose his cool.
Article continues below advertisement
The guys on the Kevin & Bean show had been ribbing Christian about his rant all week on air and making jokes, but instead of being mad, the actor said the jokes made him laugh.
"It's been a miserable week for me, and you guys, I was driving in the car, and I think it was you guys I was listening to, and you made me laugh in the midst of all this craziness," he tells the hosts.
"The thing I really want to stress is I have no confusion whatsoever, I was out of order beyond belief," Christian starts. "I was way out of order, I acted like a punk, I regret that, and there is nobody that has heard that tape that was hit harder by it than me. I make no excuses for it, it was inexcuable. I hope that that is absolutely clear."
Christian goes on to admit that he's not comfortable yet with being a movie star, and sees himself as an actor.
"The thing that disturbs me so much is that I've heard a lot of people saying I seem to think I'm better than anybody else, and nothing could be farther from the truth," he reveals. "I am a lucky – I don't want to swear – I am a lucky S.O.B. to do what I do, I never forget that, and that is why I put so much into what I do and why I care so much about it and why sometimes that enthusiasm just goes awry.
Article continues below advertisement
"If anybody ever sees that I really am thinking I am better than anybody else, stick a fork in my backside, turn me over, and I will be done," he added. "That is not me."
Christian goes on to reveal that he was trying to get a little of that "in-the-blood craziness" into the John Connor character that day, as John's mother, Sarah Connor, was in an insane asylum in the story. "Why? Because she's crazy," joked Christian. However, that craziness got a little out of hand.
"I got annoyed... and I made it ugly. I took it way too far, and I completely mixed up fact and fiction. I'm half John Connor, I'm half Christian there, and we all saw what happened."
Christian goes on to explain that he and the director of photography, Shane Hurlbut, have completely resolved everything between them, and in fact, continued working together that day and for a month afterward. He also wants to make sure fans will still go out to see the movie, as everyone worked so hard on the film.
"Please, I am asking people, do not allow my onetime lapse in judgment, my incredibly embarrassing meltdown, to overshadow this movie."