NEWS
Christian Bale Cries Remembering 'Dark Knight' Co-Star Heath Ledger at the MTV Movie Awards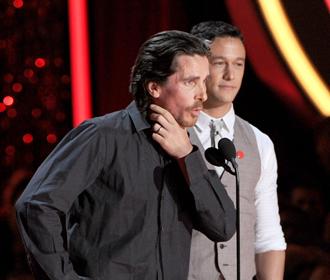 Article continues below advertisement
After introducing a montage of the best moments from the first two films in the franchise — Batman Begins and The Dark Knight — Christian became visibly emotional, something that is odd for the rough and tough actor.
"Man, great to remember Heath in that moment," Christian said, as tears rolled down his face. "Wonderful to see Heath Ledger there."
The crowd cheered for Heath, who passed away in Jan. 2008 at the age of 28 after accidentally overdosing on prescription pills. Heath ended up winning an Oscar for his much-talked about portrayal of The Joker in The Dark Knight, although he wasn't there to witness his dream come true.
MORE ON:
The Dark Knight Rises