NEWS
Christian Bale: Heath Had "Wonderful Time" As The Joker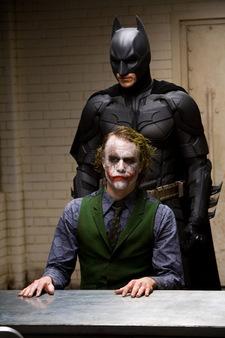 Christian Bale doesn't believe for a second that playing the Joker made Heath Ledger depressed.
In fact, he says that his Dark Knight co-star "couldn't have been happier" in the role.
After the 28-year-old was killed by an accidental overdose on January 22, press reports said that he had been suffering from insomnia and mood swings in the weeks before his death.
Rumors quickly began to circulate that Heath had thrown himself so completely into the role of the demented villian that he had slipped into depression for real.
Article continues below advertisement
And the when Jack Nicholson, who took on the same role in an earlier movie, mysteriously said that he had "warned" Ledger, some saw it a more proof.
But today Bale, who played Batman in the movie, released this Friday, trashed the theory.
"Personally, I find it to be a complete lack of understanding of acting," Bale told Today's Matt Lauer.
"I also found it very rude to try to create some kind of a sound bite for such a tragedy. The man was a complex man, he's a good man.
"I saw him as having nothing but the best time playing the Joker,"
"He was somebody who immersed himself completely in his role — absolutely, as do I," he added. "But at the end of the day, he was having a wonderful time making this movie. I say he couldn't have been happier doing it."