NEWS
Christian Bale Shows Off New & Improved Batsuit in 'The Dark Knight Rises'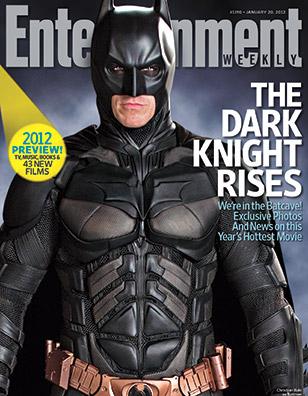 Christian Bale batsuits up for the Jan. 20 cover of Entertainment Weekly, which gives Batman fans a sneak peek into the most-anticipated movie of the summer.
The actor will retire his role as the Caped Crusader in Christopher Nolan's final installment of his franchise, The Dark Knight Rises, which hits theaters in six short months.
OK! GALLERY: ANNE HATHAWAY RACES AROUND AS CATWOMAN IN THE DARK KNIGHT RISES
Article continues below advertisement
On the EW cover, Christian shows off Batman's new suit and gets fans pumped to see the Dark Knight kick butt for the last time.
The issue also offers readers a look at some exclusive photos from the film, featuring other cast members like Tom Hardy as Bane and Gary Oldman as Commisioner Gordon.
OK! VIDEO: WATCH THE EPIC TRAILER FOR THE DARK KNIGHT RISES!
"I can tell you the truth because I'm done with it: I felt immense pressure," Christian tells EW of playing Batman for the last time. "And I think it's a good pressure, because you owe it to the films — and the people's expectations — to make great work."
Are you excited to see The Dark Knight Rises?