NEWS
Christie Brinkley Files, Denied Restraining Order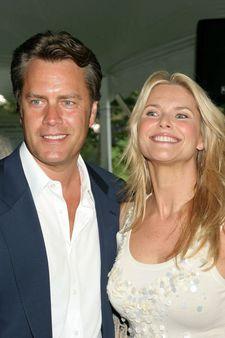 It wouldn't be Hollywood without a little catty drama. And on Thursday, Christie Brinkley and her ex-husband Peter Cook helped keep the ball rolling.
A Long Island judge has denied a temporary restraining order that Brinkley requested pending the Friday broadcast of Cook's interview on ABC's 20/20.
As news broke of his tell-all interview with Barbara Walters, Brinkley filed a the restraining order, which would have barred Cook from allowing their children to watch his interview, in which he trashes the former Sports Illustrated model, her attorney said Thursday.
Article continues below advertisement
Christie Brinkley's sole concern is to protect her children," attorney Robert Cohen said. "The Court Order mandates that since Peter Cook has the children this weekend, his parenting has to be away from his home and he can't expose them to the 20/20 broadcast."
In lieu of the court's decision today, Cook's attorney said, "The judge denied her request to suspend visitation. Mr. Cook did agree to take the children out of the area on a little trip this weekend and that he would not expose the children to that interview, which he had no intention of doing anyway."
A source close to Cook said that Brinkley wanted the restraining order "because the kids are seen in footage during the 20/20 interview."
But the source also adds, "I find it silly that someone who not only allows her children to be in the media but encourages it would have a complaint like this."
In the interview with Walters, Cook opens up about his 10-year marriage to Christie and says that after taking a PR hit during their divorce trial, he wants to set the record straight. The trial, which rocked the Hamptons in July after Cook admitted to an affair with a teenager, Diana Bianchi, and paid her $300,000 to keep quiet about it, ultimately settled out of court.
"I'm not the...pervert that I've been painted to be," Cook tells Walters in the 20/2o interview.