NEWS
Christie Brinkley, Peter Cook Reach Settlement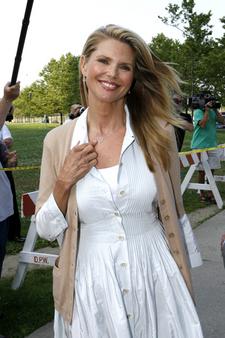 Christie Brinkley and Peter Cook have reached a divorce settlement, putting an end to a weeklong .
The supermodel was granted sole custody of their children, Jack, 13, and Sailor, 10, while Peter, 49, will receive parenting time, a rep confirms to OK!. Christie also received ownership of all real estate properties and must pay her ex $2.1 million.
"I was here fighting for custody and I think a mother's greatest fear is someone trying to take her children, trying to get custody of her children, and that's what I was up against. The settlement is all I could every want," Christie said outside the Long Island courtroom.
Article continues below advertisement
Peter was much more succinct, saying, "I didn't think we'd be here today."
The couple split in 2006 after the 54-year-old bombshell learned of her husband's affair with his then-18-year-old assistant, Diana Bianchi, who is pleased that the whole ordeal is over, according to her attorney.
"The settlement should put an end to this chapter in all of their lives and Diana is looking forward to moving on and putting this all behind her," Diana's lawer says in a statement to The Insider. "This has been a media frenzy and put her in the spotlight and she is looking forward to regaining her private life again. She is all grown up and becoming a woman and looks forward to embracing her future."
For more on Christie's trial, tune in to The Insider tonight!