NEWS
Christie Brinkley & Peter Cook's Divorce Final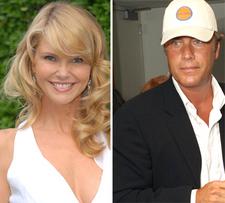 Although Christie Brinkley filed for divorce from architect husband Peter Cook in September of 2006, the divorce just became final on Oct. 3, according to a court document obtained by Extra.
The details of the couple's split were a hot topic this summer, as Peter openly admitted he'd had an affair with 18-year-old Diana Bianchi. Peter also revealed that he'd spent thousands of dollars on internet porn during the marriage, while Christie says she remained faithful.
Article continues below advertisement
Peter has been stirring the flames of the bitter divorce, speaking openly about it in a recent interview with Barbara Walters on 20/20, airing this Friday.
"I'm not the pervert that I've been painted to be," he tells Barbara in the interview. "The misinformation that came out during the trial is the elephant in the room. It's the elephant in the room for my kids."
Extra also received this statement from Robert Stephan Cohen on behalf of his client, Christie, on Peter's revealing interview: "It is a measure of Peter Cook's character that he has breached the confidentiality agreement that is in the divorce settlement and has sought to present this distorted one sided view of his marriage. Mr. Cook had his days in court, testified on his own behalf and ultimately agreed with the view of the children's court appointed attorney and psychiatrist that the children should live principally with their mother and that she should be the sole custodial parent."