NEWS
Christie Brinkley: Split Was a "Nightmare"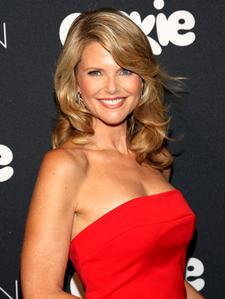 Taking the stand Monday again in her acrimonious divorce trial, Christie Brinkley recalled the "nightmare" she had to endure after she learned of her husband Peter Cook's affair with a then-18-year-old.
Not only was her 10-year marriage over, but so was the supermodel's picture-perfect lifestyle.
''That's the only thing I've ever wanted,'' Christie said on the stand. ''That's the most important thing -- to have a big, happy family.''
Article continues below advertisement
The repercussions of the affair meant breaking the news to their children, Jack, 13, and Sailor, 10, for whom they are arguing custody. Christie kept the news flash brief and and succinct, she said, telling them 'I think daddy has fallen out of love with me," adding that they would always be ''very, very loved.''
The break-up wasn't as simple as that, of course. Peter, an architect, carried on a relationship with his assistant Diana Bianchi on the side, even paying her off and putting a down payment on a car. In addition to that, the 49-year-old splashed out thousands on Internet porn.
Since the split, Christie's main focus has been on Jack and Sailor, whom she spirited away for a camping trip, outside of the media's probing eye, when the news broke. The 54-year-old, who has a daughter, Alexa Ray, 22, with Billy Joel, adds that she has absolutely no interest in dating.
''I think the kids have been through a lot of changes,'' she said. ''... I just don't think this is the time for that.''