NEWS
Christie's Ex: I'm An Idiot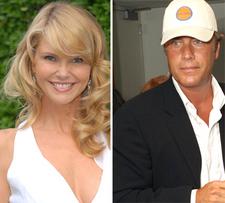 In an exclusive interview with Barbara Walters on 20/20 tonight on ABC, Peter Cook admits that he was at fault for cheating on former supermodel wife Christie Brinkley with teen Diana Bianchi.
"It was my failing," he says in the interview. "I was a great father, a great husband, and I failed as a human being. I failed myself. Christie is mad at me, she's entitled to be mad at me; I'm an idiot, I made a mistake."
Article continues below advertisement
However Peter also seems lay some of the blame on Christie for the end of their marriage, saying he felt like "a guest in someone else's life" and that he cheated because he was "seeking a connection" he couldn't find in his own marriage.
After meeting 17-year-old Diana Bianchi in 2004, Peter apparently found that "connection," offering her a job in the spring of 2005 and starting the affair soon after.
"There was a mutual attraction, flirting," he says. "One thing led to another. And, the affair began."
Christie's ex-husband also admits that he was unfaithful in the homes that the couple owned together, including vacant ones.
From there, the marriage seemed to spiral downward, as Peter paid Diana $300K to keep quiet about the affair, and sunk $3,000 a month into Internet pornography.
For her part, Christie is not too happy with Peter's tell-all approach when it comes to their bitter divorce. On Wednesday her lawyer Robert Stephan Cohen released a statement saying: "It is a measure of Peter Cook's character that he has breached the confidentiality agreement that is in the divorce settlement and has sought to present this distorted one-sided view of his marriage. Mr. Cook had his days in court, testified on his own behalf and ultimately agreed with the view of the children's court appointed attorney and psychiatrist that the children should live principally with their mother and that she should be the sole custodial parent."