NEWS
Christina Applegate & Will Arnett Call Their 'Up All Night' Roles "Really Accurate"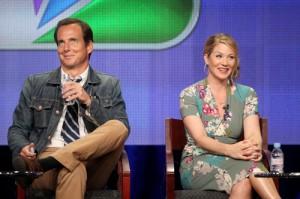 Christina Applegate and Will Arnett's roles in their new NBC sitcom mirror their everyday lives. Both real-life parents have been "Up All Night" with their own kids and been in similar situations fans will see on the show.
OK! NEWS: CHRISTINA APPLEGATE TO STAR IN NBC PILOT AS A MOM?
In one scene from their new show, Up All Night, Christina and Will curse in front of their baby — which they've accidentally done in front of their own children.
Article continues below advertisement
"I think we did that until all of a sudden your baby goes, 'F***!' And then you're like, Awww, s***,' " Christina explained to New York Magazine.
"Yeah, our eldest son is almost 3, and now they hear everything. It's like living East Berlin in the seventies. So you have to be really, really careful," Will agreed. "Christina and I talked about this, but there are things in the pilot that are really accurate. Since the pilot, we find ourselves in situations where it's like, 'Wow, not only is this real, but we actually did this in the pilot. This is so strange.' Like arguing about who stayed up more the night before. If your baby is up, that's such a real conversation about, 'I was up for these hours.' "
But neither one is sure if that's a good thing or not yet!
"It's too early to assess the data," Will said.
Watch the Up All Night preview tonight at 9 p.m. ET on NBC!