NEWS
Christina Applegate's Fiance Delivers Her Home from 'Jimmy Kimmel Live'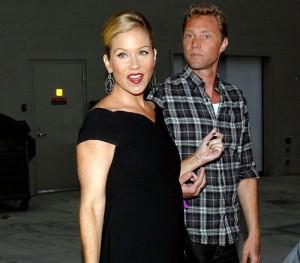 Christina Applegate was all smiles, but looked a little tired as her fiancé Martyn LeNoble escorted her back to the car after the actress made a successful appearance on Jimmy Kimmel Live on Tuesday. Christina and Martyn just announced the news that they're expecting their first child and couldn't be more excited! The actress isn't ashamed of her bump and showed it off to Jimmy Kimmel!
Article continues below advertisement
Even though she looked tired, Christina had to stop to sign some autographs for her fans along the way to her waiting vehicle!
At the premiere of her new film, Cats & Dogs: The Revenge of of Kitty Galore, OK! spoke with Christina about her pregnancy.
"I am worried about my dog. I think she is going to have problems," Christina admitted to OK!. "She is attached to me and at the house, there is a never a moment that she isn't next to me so I will have to be careful when the baby comes."
MORE ON:
OK Galleries & Photos
OK! NEWS: CHRISTINA APPLEGATE IS PREGNANT!
On Jimmy Kimmel Live Tuesday night, Christina stuffed a sweatshirt under her dress to make her small bump bigger to fool Jimmy. The actress then talked about how her pregnancy is making her a little crazy!
Watch the clip below!