NEWS
Christina Milian Gushes at Her Birthday Bash: 'I Would Love to Work With Justin Bieber'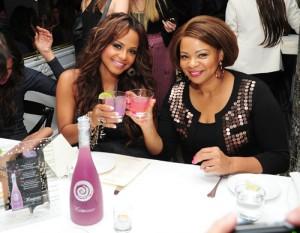 Christina Milian celebrated her 30th birthday last night in high style. The singer had dinner with her friends at a bash thrown by HPNOTIQ Harmonie at Beaumarchais in NYC. Christina took a few minutes out of her celebration to talk exclusively to OK! about the big 30 and Justin Bieber.
Christina told OK! she's actually excited to turn 30.
Article continues below advertisement
"It feels awesome. It feels actually really cool," she said. "It's not like oh my gosh I'm getting old. For me, it's something I feel like I can stand taller. I'm more confident. I feel like I've gone into it with wisdom and not just like naïve and the same way I was last year."
This milestone means that she isn't going to go around kissing teen dream Justin Bieber on the cheek any longer! "I don't think I'll be kissing any teenagers at 30! In my twenties it's okay."
She also has plans to work with Justin in the near future!
"I would love to, I would love to," she shares. "Actually I've worked on a couple of songs in the studio lately that we're trying to get on his project, something will get on there. Fingers crossed."
Her new music is coming out in the fall and when we asked about a possible duet she said, "Hopefully with Justin that would be awesome."