NEWS
Christina Perri Premieres "A Thousand Years" Music Video From 'Breaking Dawn' Soundtrack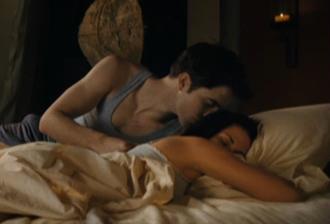 Christina Perri has released the music video that goes with her song, "A Thousand Years" from the soundtrack of The Twilight Saga: Breaking Dawn - Part 1. Twi-hards shouldn't be disappointed as it does feature clips from the film!
Well, the Breaking Dawn clips mostly look like they are from the trailer. But there might be a couple we haven't seen yet of Robert Pattinson and Kristen Stewart.
MTV premiered the new music video and Christina said she's a huge Twilight fan.
Article continues below advertisement
"I've been a really big Twilight fan for years. For me, it just has to do most with the love story between Edward and Bella," Christina told MTV News. "I feel like it's Romeo and Juliet, and they just happen to be vampires and there's werewolves. I loved the story from day one."
Christina sings in the song, "I have died everyday waiting for you/Darling don't be afraid I have loved you/For a thousand years/I'll love you for a thousand more."
The Twilight Saga: Breaking Dawn - Part 1 soundtrack hits stores on Nov. 8 — just 10 days before the film hits theaters!
Watch the music video, below!