NEWS
Christina Ricci Opens Up About Anorexia Struggle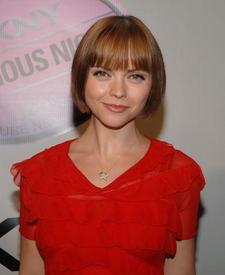 Growing up in Hollywood, former child star Christina Ricci fell victim to industry and societal pressures to be stick-thin, ultimately battling through . But now, the actress says she's finally learned to be comfortable with her body.
"I was a teenager going through adolescence and at one point I had a little anorexia phase and then I kind of ballooned," she tells Entertainment Tonight in an interview to air on Tuesday. "I feel my body now is the adult Christina and it's what I should have come to a long time ago if I hadn't been screwing around with my body so much."
Article continues below advertisement
The 27-year-old admits she used to waste many days worrying about her projected image on the red carpet, determined to look thin and gorgeous. The obsession consumed her so much that she was no longer enjoying nights out on the town.
"I was too busy thinking about my skin or my weight or the clothes I was wearing instead of just enjoying it and saying, 'I can't believe I get to be here. This is awesome and I'm going to experience it.' "
Older and wiser, Christina, who can next be seen in the drama Penelope, offers words of wisdom to younger girls struggling with body image issues. "Vanity is unnecessary," she asserts, so don't fixate on the negative.
"The more weight you give your criticisms, the more it's going to affect you," she says. "Vanity is unnecessary. I'm the most vain person on earth but I have found a way to let that go so I can just have fun. You really have to make a decision in life that you're not going to be crippled by your insecurities."
For more on Christina, tune in to ET on Tuesday!