NEWS
Christine O'Donnell Tweets At "Cheeky Bugger" Piers Morgan Post Walk-Off: "No Hard Feelings"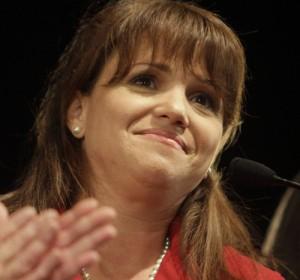 It looks like Christine O'Donnell has found it in her heart to forgive Piers Morgan after she accused him of being "rude" and stormed off his CNN news program Wednesday night when he pressed her about her views on gay marriage and witchcraft.
Christine appeared via satellite on the CNN show Wednesday night, to promote her book Troublemaker: Let's Do What It Takes to Make America Great Again — and one of the topics in the book is same-sex marriage.
Article continues below advertisement
But the controversial politician said she wasn't there to speak about the hot button issue, and wanted to discuss other things during her time on CNN.
When Piers kept pressing about her views on same-sex marriage, she continued to call him rude before walking off set!
"Ms O'Donnell wasn't happy about me quizzing her re views on withcraft and sex. But really flipped at gay marriage Qs. Ripped mike and fled." he Tweeted followed by, "My first ever walk-out in 25 years of interviews. I guess viewers can decide if I was 'rude' or not tonight at 9pm ET. #CNN."
And the host couldn't help but to add, "Do you think Christine O'Donnell is going to put a witch's curse on me now?"
And then Piers did the professional thing, and invited Christine back on his show to discuss the walk-off.
But she respectfully declined on Twitter.
"Piers, thanks for the invite. Schedule is already packed, maybe another night. No hard feelings, you cheeky bugger," she Tweeted.
Are you surprised that the Republican Delaware politician declined? Sound off in the comments.